2017
NJTechWeekly
Editorial Writing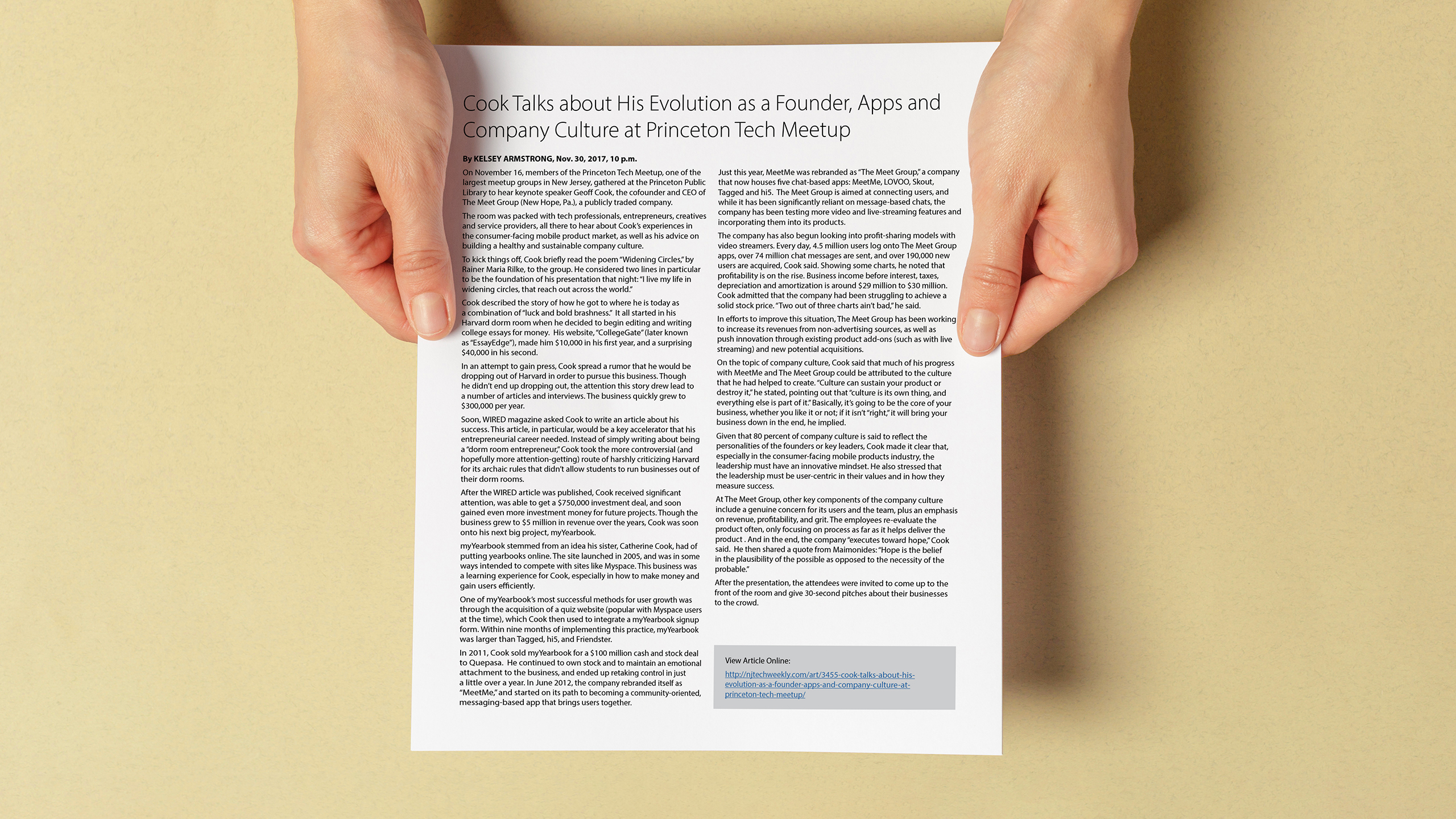 Three tech article write-ups for NJTechWeekly.com
Upon submission, write-ups would go through an editor and were then published live to their site.
November 30, 2017
Cook Talks about His Evolution as a Founder,
Apps and Company Culture at Princeton Tech Meetup
"On November 16, members of the Princeton Tech Meetup, one of the largest meetup groups in New Jersey, gathered at the Princeton Public Library to hear keynote speaker Geoff Cook, the cofounder and CEO of The Meet Group (New Hope, Pa.), a publicly traded company.
The room was packed with tech professionals, entrepreneurs, creatives and service providers, all there to hear about Cook's experiences in the consumer-facing mobile product market, as well as his advice on building a healthy and sustainable company culture…"
(continue reading at NJTechWeekly.com)
October 8, 2017
At the NJBIA Summit, a Look at How Innovation Gets Done
"The NJBIA held its 2017 Innovation Summit on September 27, inviting policy makers and regulators, members of the business community, academic leaders, and nonprofits to participate in a dialogue about advancing the innovation agenda in New Jersey.
According to Michele Siekerka, the president and CEO of NJBIA, 'When we get up every day at NJBIA, we have a vision to have New Jersey reclaim its stature as an innovation state. That's why we're here today.'…"
(continue reading at NJTechWeekly.com)
August 24, 2017
At Keller Demo Day, Six Student Teams Pitch Their Companies
"Six startup teams pitched at the Keller Center's eLab Summer Accelerator Program Demo Day, held at the Friend Center at Princeton University on August 15. The next day, they did it all again, this time at the AppNexus offices, in New York City.
NJTechWeekly.com attended the Princeton event to see what this year's teams were up to…"
(continue reading at NJTechWeekly.com)